Who the hell does a Year-in-Review post in March? I do, that's who. 2015 was a hell of a year, with some big changes - both good and bad - for me and my family. I've referenced some of those changes here, but some of it... well, I've chosen to keep that stuff to the close friends and family.
Anyway, good or bad, my wife and I can once again look back and be thankful for the life we have, and appreciate how fortunate we are compared to so many in this world.
Happy Easter/St. Patrick's Day/whatever you celebrate in March.
So long, Deutsch
I'll miss these sunsets from 111 8th Ave.
...Hello, Droga5
New job, new neighborhood!
Subway cookie vendors
I had a roasting fever and was stumbling my way home from the Production Department party when I ran into these lovely ladies selling cookies at Atlantic Avenue. The cookies were delicious, but I don't think they did anything for my fever.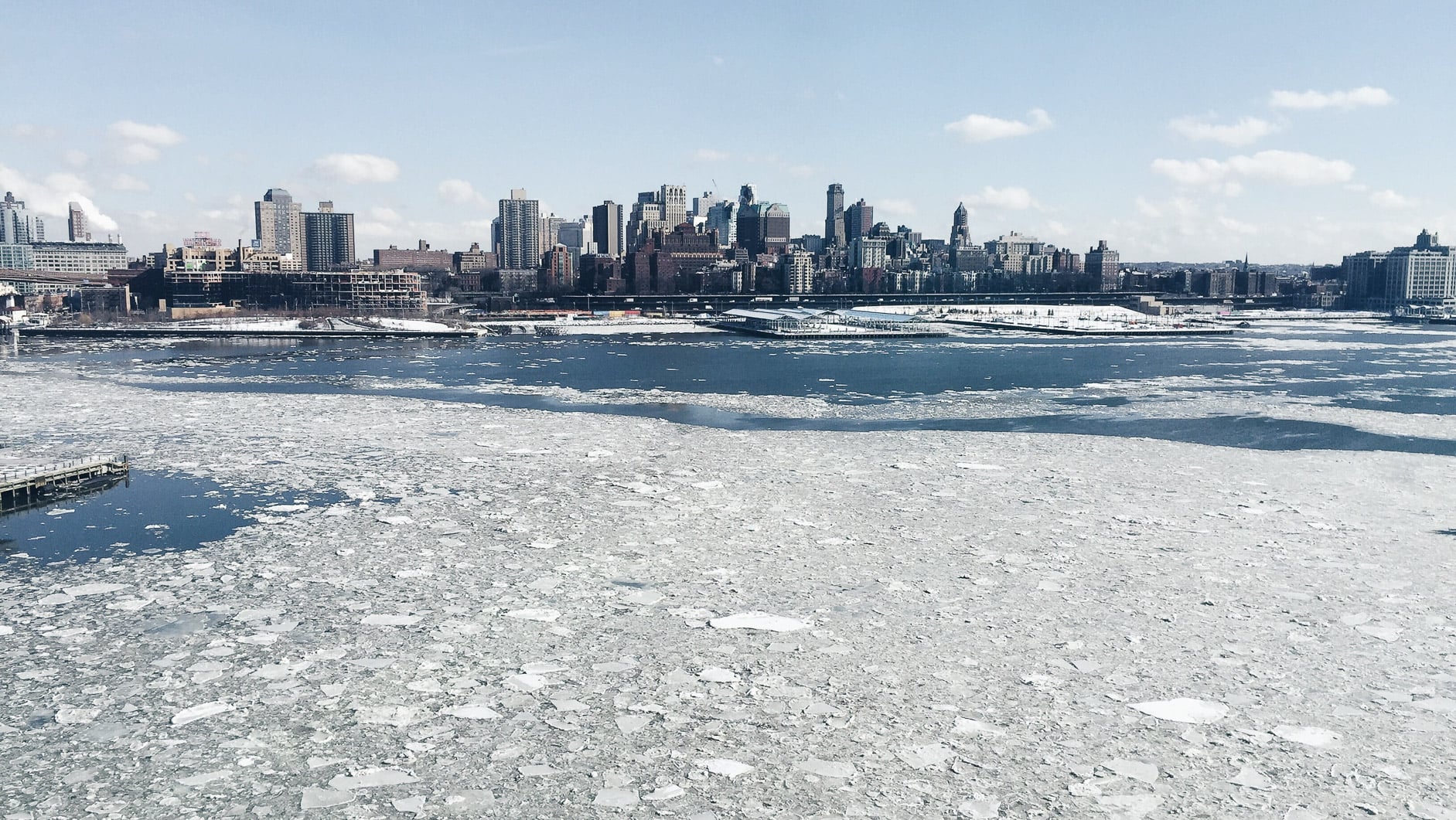 Ice, Ice Baby
Winter 2015 was exceptionally cold - and I think I felt it more acutely because of the proximity of Droga5's office to the waterfront.
Go, Brooklyn
My second pro basketball game at Barclays Center. And the Nets beat the Cavs!
Snowboarding at Mountain Creek
Great last day of the season, snowboarding with my buddy Brian Snapp. That is, until I fell and smashed my hip and my head into the side of the mountain. Good times.
South Street Seaport Portrait
I saw this woman preparing to head back to work after enjoying a few minutes outside on one of the first warmish days at the South Street Seaport. I asked her if I could make a portrait of her and her fantastic hair, and she happily obliged.
IKEA Pier
As I contemplate my life, and the many possible choices I face in my personal and professional development, this resonated with me as a symbolic representation of...
Nah, I just thought it looked cool.
POTUS
One of the perks of being in the Financial District is the proximity to the heliport where President Obama and his entourage land when he's visiting the city.
Sirous
Shot for the men's app/magazine FortyTwo. This is one of my first forays into the world of fashion photography. It was kind of uncomfortable at first, but I've heard that you're supposed to embrace things that make you feel uncomfortable in order to grow. Makes sense to me.
Tour de Brooklyn
Exploring the Borough with Matt and Alla
Look Up
Being in the canyons of the Financial District, I can't help but notice the patterns of light and dark, and the shapes created by the buildings towering overhead.
Williamsburg Weekend
Had a great weekend with the fellas in Williamsburg for the Brooklyn Hip-Hop Festival.
Webster Lake
Spending time at this place is becoming a bit of a tradition with my wife and her family. It's the perfect place to find stillness, while not completely disconnecting from the world.
Beach Training
Dante and Liz sparring at Far Rockaway. This was a fun learning and bonding experience for me and my dojo family.
Red Hook
I rode my bike more in 2015, and found myself down in Red Hook on several occasions. The views from the waterfront there are just too good.
There's a Pot of Gold in Brooklyn
Speaking of waterfront views...
Selfie Stick
This is one of my favorites. This young lady spent several minutes - as captured in this long-exposure image - perfecting her pose and smile for a selfie in front of Lower Manhattan.
Lady Liberty
My wife took me on a dinner date on Bateaux New York for my birthday. Once again, the views were spectacular.
Exchange Place
I've spent a good amount of time exploring my new work neighborhood after hours. There's something cool about seeing this quieter side of the financial capital of the world.
Prospect Park Foliage
I still love to go on my occasional hikes through Prospect Park.
Alexandra
My gorgeous little niece. Can't make a bad picture of her if you try.
Bushwhack Community Darkroom
I've been making pictures for a long time, but I finally took a darkroom developing class for the first time, because I wanted to get closer to the essential elements of photography. I loved it, and can't wait to go back.